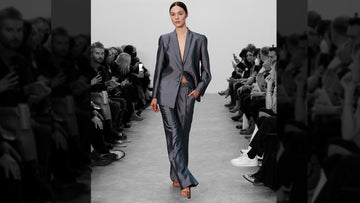 The concept of power dressing has been dated by historians to the mid-eighteen hundreds, in an era where ostentatious fashion and the volume of the clothes you wore displayed your class and authority.
The concept of power dressing grew as did the suffragettes in tight suits that protested for gender equality at the beginning of the nineteen hundreds. By the time the roaring '20s came, Coco Chanel designed a female suit with a wool-cardigan along with a matching skirt made of the same material. This dress sought to break societal norms towards how women should dress. 
A hundred years later, and we'd like to ask, how has power dressing changed?
After plenty of experiments by the likes of Yves Saint Laurent on the female tuxedo, "Le Smoking", or Armani and Versace and their power-suit trend which featured vibrant colors and added volumes on the shoulder blazers.
Power dressing played a huge part in establishing an opening for women in spaces traditionally dominated by men, such as the workplace and political environments, to name a few. Many women have been main exponents of power dressing, women such as Margaret Thatcher, Michelle Obama, Anna Wintour, Madonna, Victoria Beckham, Princess Diana, and plenty others are considered exponents of power dressing for their out of the norm style, and their challenges to societal norms regarding what women should wear and how.
Nowadays Power dressing is based on multiple concepts. For example Your own confidence. Although power dressing was based on making the body unappealing and "correct" for a work environment.
An important note of the concept of power dressing derives from the fact that it's made for high-end environments, be mindful of the materials you choose, as they also communicate through their texture. Silk, Cotton, Linen, and Wool are fabrics that for many years have been regarded as very luxurious because of the way they're obtained.
Nowadays whatever makes you feel comfortable, empowered, and ready to take on the world, can help you add the outfit you love to your list of power dresses. Only by knowing yourself and acknowledging your best features, can you choose the clothing and outfits that flatter you. Try with different clothing that fits your natural shape, as well as colors that highlight your features, such as eyes, skin, and hair.
Let us remember, power dressing is also supposed to make a statement. All clothes communicate something, either by an enhanced presence, such as strong boots, built-up shoulders, excess of fabric, or by being part of a group, such as uniforms. Power Dressing is important because it reminds us of an expression of self, a relationship with the clothes that goes deeper than the material world. 
Trousers represented a power-dressing favorite because, for many years, they weren't allowed for women and after they were introduced into the market women were shunned for wearing them. We could say that as the 80s began the image of a woman wearing trousers in the workplace became normalized, and even looked upon. 
¡Leave us a comment and tell us which are the clothes that make you feel most empowered!