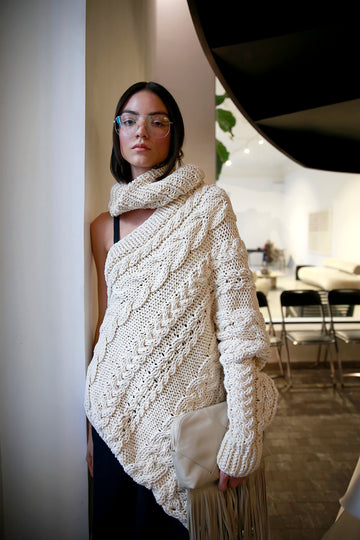 Getting dressed is an everyday exercise of semiotics. How we dress totally affects how others perceive us, what they think about us,  what we might do, how we can think, everything. From a simple outfit. Now, if you're like me, you want to stand out from the crowd,  being perceived as different and unique. Standing out depends more on how we contrast our clothes rather than how extravagant they might be. Actually neutral outfits can take your whole attention because of its minimalism and how quickly you perceive the elegance.
Rocking a neutral outfit can be just as hard as nailing extravagant looks or interesting and deep colors. Like everything, it is all a matter of how you balance stuff, contrast principles, even gestalt principles which are present in designer clothes and in most objects we interact with.
Making a neutral outfit pop and stand out is all a matter of following simple rules of hierarchy. My first advice is, always think how to make sure your neutral outfit gets elevated somehow, you need to add a level of interest.
How do you add levels of interest you might ask?
Patterns are part of our everyday life, it is how nature communicates and how our universe is built. So we say, embrace them.
Patterns are visualizations of mathematical procedures, which makes them attractive to the eye. A well-used pattern can make any outfit pop out and catch anyone's eye on the interest of an effect, or optical illusion that the pattern might provoke.
If you aren't feeling so adventurous you can always stick to classic patterns, such as braided patterns, or knitted ones too. This season I've seen plenty of knitted sweaters that make for incredible textures and colors.
Another interesting characteristic you might want to use is Playing with Silhouettes. Remember clothes are more than they seem, there's also magic in the shadows they cast, the way it flows through your body and how it interacts with the environment. 
When I'm using neutral outfits I try to use different layered clothes, to have varying lengths that create an eye-catching appeal. We suggest you try matching a trenchcoat, or long coats with shorts, and skirts to add drama and glamour to your way of dressing.
I know I mentioned this earlier, but I really wanted to emphasize how far can adding texture take your outfit. By adding a seamless texture you are gifting the beholders an automatic focal point to your outfit. This focal point is also very dynamic and can change with how you and your garment move around, or your position while staying still and how it interacts with light. This surface of interest gives an added effect of dimension and can break the flatness of the clothes.
Using overwear to incorporate texture is a classic technique that will never be outdated, so don't be scared to add some knitted texture, or even try a denim one.
Our last recommendation is to use accessories that feel like a statement. Accessories are amazing at provoking contrast or even adding a point of interest in which the consistency of the outfit is transmitted. Remember that these accessories need to have a wow effect, this wow effect is easily achieved with boots or even clutches. If you want to incorporate any of these ideas, remember that the accessory can help you add texture, or even generate contrast. Try pairing the color of the boots and the clutch, or the clutch with the clothes. 
What do you do to make your neutral outfits pop? Why don't you let us know in the comment section below